So I'm sure we all know how it works by now. You're innocently scrolling through YouTube or Instagram, looking for makeup tips and ideas and inevitably a video involving contouring appears. You open said video and it's pretty standard fare to start off with. A girl, sometimes a guy, sitting in her/his bedroom or makeshift studio, showing you how to achieve their uber-sculpted look. Foundation is applied, maybe a little heavy-handed. There's probably an elaborate smoky or cut crease eye shadow, also heavy on the application. It's all starting to look a bit complicated and you're beginning to regret coming here.
But you carry on watching because she's moved onto the ubiquitous contour kit. She starts to draw a series of brown stripes under the cheekbones, down the sides of the nose, on the jawline and forehead. Then there's the highlight shade. She applies this liberally to the areas left untouched by the brown stripes, or stars, or flowers, or whatever shape she fancies because it will all be blended together anyway. She must be finished soon, you think, but then she whips out some powder and begins 'baking'.
You wonder how you even got here, at 12am on a school night, watching a stranger draw funny lines on their face. Maybe it was a mistake, or maybe you actually searched for a contouring tutorial because in a moment of naivety you believed you could easily create the illusion of a supermodel bone structure, or even look like a Kardashian. Will you ever be able to recreate the looks you see in these videos? Possibly not, but do you need to?
Contouring is a trend that has evolved into an almost wax model-like representation of the 'perfect' bone structure. While people might get away with it on Instagram or YouTube, where the camera might not pick up subtlety as well as the human eye, in real life, it's a thick layer of makeup that sits on top of the skin, rather than working with your features and blending into the skin for a natural finish.
If you want to create more defined cheekbones, nose or jawline (remember, you don't have to do all of these at once), then it's best to use the traditional makeup technique of shading and highlighting, contouring's older and more refined sister.
Simply put, shading and highlighting is the process of creating the illusion of shadow and light. It's based on the concept that darker colours will make features look smaller, and light colours will make features stand out or look bigger.
A cool-toned brown cream or powder product, in the right places, can give the face more definition. You can always use a bronzer on the temples, working down to the apples of the cheeks, to warm up the look if you feel you look too gaunt.
Besides my preference for more subtle sculpting techniques, here are some other reasons I think we should put down the contour kits:
1 It's expensive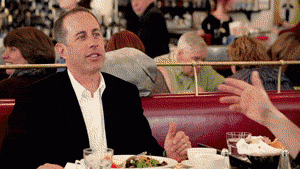 via Giphy
Large contour kits are, most of the time, unnecessary. Unless you're a pro makeup artist, it's unlikely you'll use all the shades in the larger, palette-style contour kits. If you already own bronzer, concealer and highlighter, all you need is a powder or cream product (depending on your preference) to create a more sculpted look. Some powder options include MAC eye shadow in Omega, NYX Hot Singles Eye Shadow in S.O.S, MAC Sculpting Powder and NYX High Definition Blush in Taupe. For cream products, try Rosie for Autograph Starstruck Contour, Illamasqua Gel Sculpt in Silhouette and NARS Matte Multiple Cheek Stain in Altai. Obviously you'll need to shop around a bit in order to find the best shade for your skin tone. If you really want a contour kit, I think this Smashbox one has some good shades for light and deep skin tones.
2 It turns you into a Monet
via Giphy
Heavy contouring might look ok on social media when it's shot from the right distance under flattering lighting and later edited. Up close it's cakey af.
3 None of the top makeup artist do it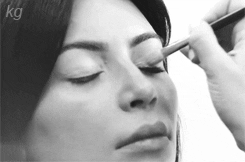 via Giphy
Bobbi Brown has been outspoken about her disdain for the trend, and even Mario Dedivanovic, the artist behind Contour Queen Kim Kardashian, doesn't use the techniques we're so used to seeing. He builds up the product gradually and in small amounts, ensuring it's all blended seamlessly into the skin.
4 It complicates makeup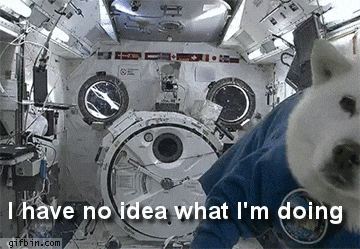 via Giphy
Contouring has made makeup an intimidating minefield of products and techniques. It can take the fun out of makeup when the focus is on changing your facial bone structure to such a large degree.
Of course, these are just my opinions. As someone who prefers a more natural and creative approach to makeup, to me, there's nothing natural or creative in the contouring trend. Maybe you disagree? I'd love to hear your thoughts in the comments below.